A Web Sized Education Problem at LWSEdu
Posted on by Steve Workman About 1 min reading time
This month at london web standards, Opera's Chris Mills (@chrisdavidmills) and Anna Debenham (@anna_debenham) came down to talk to us about education and the web. Chris talked about the state of adult and professional education.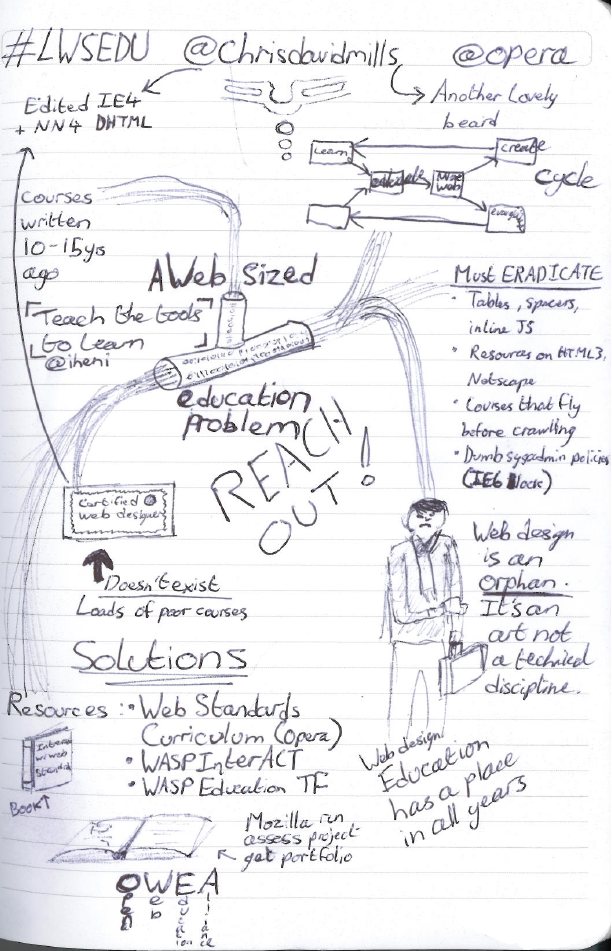 Chris talked about certificates and courses in web design. Most computing courses are little or no better than the GCSE courses, teaching the very basics of HTML markup, and then all the way to E-commerce without teaching the middle. Many of these courses were written 10-15 years ago and still have the hangovers of the pre-CSS era.
Things that must be eradicated from web education:
Tables as layout, spacer.gif, inline javascript
Resources on HTML3 and Netscape
Courses that try to fly before crawling
Dumb sysadmin policies (lock into IE6)
There are solutions:
We need to teach the tools to learn, rather than teaching someone an evolving field. Web design is not like computer science, where underlying principles can be easily taught, it's an art form.
So, web community, reach out, create resources for learning and teach people how to teach themselves.
The slides are up at slide share